Scientific Equipment
As all our projects are strongly synthesis driven, the core of our facilities is a fully equipped synthetic laboratory offering space for eight chemists.
In addition, we own a number of scientific instruments.
For Synthesis
● Hot plates fully equiped with DrySyn Heating Blocks
● Four rotary evaporator with membrane pumps
● High pressure hydrogen reactor
● Syringue pump
● UV reactor
● JACOMEX Glove box
For purification
● Glass Oven B-585 Kugelrohr
● Sublimation apparatus
● Train sublimation system
● Three zone tube furnace with independent temperature control from Severn thermal solutions
● Turbo pumping Station Edwards T-Station 75W
● Zone refiner for the purification of organic semiconductors
For Analysis
Agilent gel permeation chromatography (GPC) set-up

Agilent analytical and preparative HPLC set-up Dedicated room     with efficient local exhaust ventilation provides clean and safe conditions for chromatography experiments.
Netzsch POLYMA

differential scanning calorimeter (DSC)
Thermogravimetric analyzer (TGA)
High-End optical microscope with hot stage and digital camera
UV-visible absorption spectrometer
Emission spectrometer
Mettler FP800 Thermosystem with FP82 hot stage for thermomicroscopy
Spin-Coater
X-ray diffractometers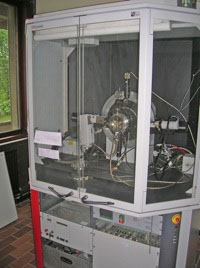 And in direct access @ University of Brussels…
● NMR spectrometers from CIREM
● Mass-spectroscopy
● Infra-red spectrometers
● Cyclic voltammetry equipment
Safety
! Never work alone !
! Wear labcoat, gloves, safety glasses !